Types of Dry Mops and Their Uses (5 places To Use Them)
There are various types of dry mops available, each with specific uses. Microfiber mops are durable and effective for picking up larger debris, cotton mops are good for all-purpose wet mopping, synthetic mops are durable and resistant to mildew, dust mops are for dry cleaning, strip mops have a built-in wringer, and string mops offer excellent absorbency and scrubbing power. Choosing the right type depends on individual cleaning needs and preferences.
A dry mop is an effective cleaning tool that can be used to clean floors.
Dry mops may look like ordinary mops at first glance, but they are different in many ways.
The idea of a dry mop is to have a mop that does not soak up excess water. This excess water can cause several problems, especially for your floors.
There are different types of dry mops available in the market for cleaning purposes.
These are beneficial for commercial, industrial, and domestic cleaning. These are easy to use and are equally useful.
Different types of dry mops are available in the market with their own set of pros and cons. Here are some of the most famous ones.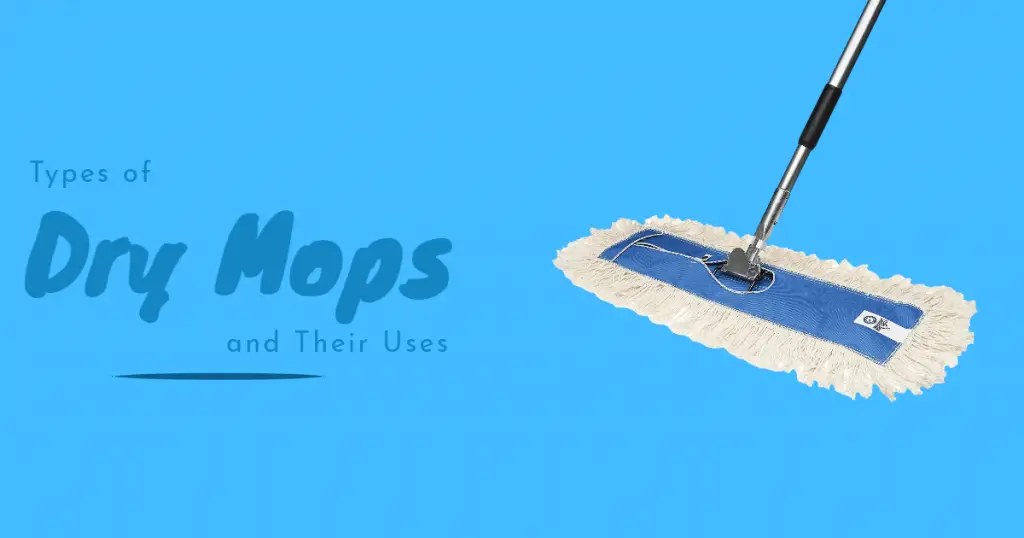 Spin Dry Mops
Spin Mops don't let you touch the dirty, germ-free mop as they are more comfortable to use and reduce the time of the user to get the floor cleaned as compared to traditional mops such as flat mops.
Spin Mops come with a flat circular head.
This circular head is made up of microfiber in usual cases or sometimes a blended microfiber and some other material are used too.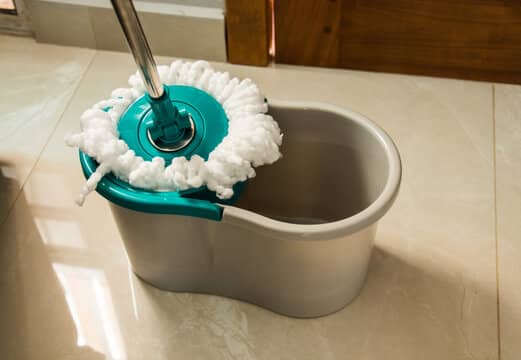 This head can be rotated 360 degrees. Due to its spinning model, mopping becomes easier with the usage of spin mops.
The spin Mops don't require you to put in a lot of physical effort as they are equipped with a supporting mechanism that does the work for you.
In addition to this, these mops don't require the amount of water needed in the case of traditional mops.
There are some buckets at the top that separate the dirty water from the clear water.
Spin mops have a whole range of sizes, designs, and patterns from which one can select according to his/her requirements.
Telescopic handles are used in most of these mops which make them easily operative on hard floors.
Steam mops
​The modern era came with steam mops making use of steam to clean the floors and keep them tidy.
With technological advancements, traditional mops have been replaced by steam mops.
As contrary to traditional mops, which require cleaning agents like bleach or washing powder, steam mops make use of steam for disinfecting the flooring surfaces.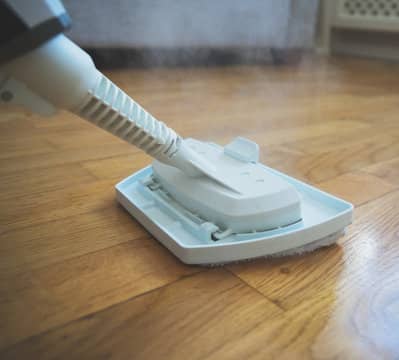 To trap dirt from the surface of the floor, a microfibre is usually used underneath the steam jet.
This allows the steam mop not only to disinfect the floor but to remove the dirt too.
These mops take less time to clean homes as compared to regular ones.
Cleaning flooring surfaces with steam mops is a safer, eco-friendly, and affordable option.
Steam mops help you to get rid of invisible bacteria present on your floor making the surroundings healthier too.
Since you won't be using cleaning agents like detergents or bleach, the floor would be safer for children and pets.
Wet Dry Mops
Wet Mops are used in the second step of cleaning flooring surfaces.
After the removal of dirt, wet Mops are used to swap the floors and remove the stains thereby making it cleaner.
It is swept over the surface to be cleaned where it dissolves and absorbs the fat particles.​ You can add fragrances to wet mops while mopping the floor.
All these mops offer various features. Some are simple and easy to use while others are durable and lightweight.
Wet mops also come with aluminum handles for a better grip along with easy-to-use attachable pads.
Sponge Mops
Regular mops make the regular cleaning process at homes difficult, messier, and unhealthy too.
Sponge Mops are one of the best mops available nowadays in the market which are easy to maneuver and can reach all the corners of our homes.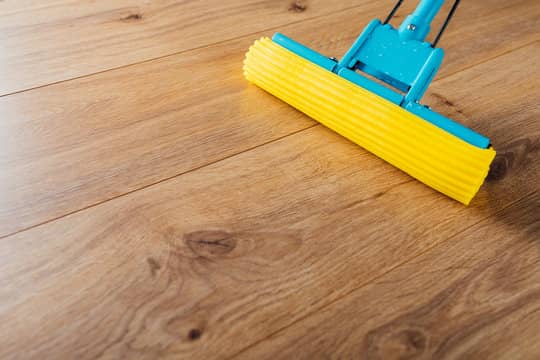 Sponge mops come with sponge heads which are often more absorbent.
They can absorb dust and dirty water more effectively than regular mops.
In addition to this, sponge mops' heads are precise for quality cleaning of floors.
Undoubtedly, the best thing about sponge mops is that they come with two types of durable handles.
One handle is for squeezing out the excess water while the other serves the intense scrubbing purpose on the floor.
One of the best sponge mops after consideration of factors like quality, features, and price, the name PVA Mop Double Roller Sponge Mop comes at the top.
It is made up of durable plastic along with a strong aluminum handle.
In addition to this, it is lightweight and its telescopic handle provides an extension of up to 5 feet.
Casabella Original Mop can also be a good choice due to its highly strong steel body.
​Robot Mops
Mopping is one of the most cumbersome, time-consuming, and hated household chores.
In the 21st century, with the advent of robotics, the task of mopping has become easier.
Robot mops came to our rescue reducing our work without having to worry about attached buckets and holding the mopping sticks.
In the case of Robot mops, you are required to fill water in their tank, set them to operate on the floor, and just press the button to get them into motion.
Your work is done and you can relax without having the headache of holding the mop stick traditionally.
Although they aren't able to eliminate the use of traditional stick mops at regular intervals they still make the cleaning process better and easier for the people.
Some of these robots mops sweep or vacuum clean the floors too before mopping them. This makes one get rid of these chores as well.
There are generally two kinds of Robot mops. The first category of robot mops do only mopping like iLife Shinebot W400.
The other one can do vacuum cleaning along with mopping. One can select either of them according to their requirements.
​Final Words
Above described were the five major types of mops which are used for cleaning flooring surfaces. There is a whole range of mops available nowadays.
They vary in terms of design, structure, material used, features, and price. One should select the mops according to his/her requirement and budget.